Earn 3X ALFURSAN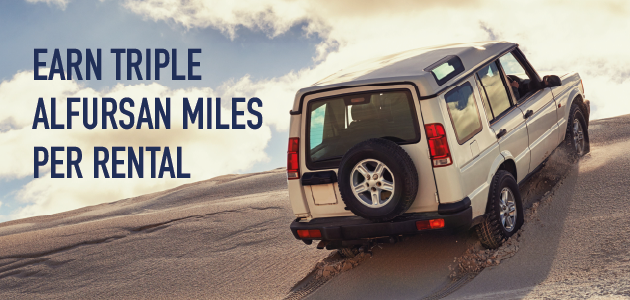 Earn 3X ALFURSAN Reward Miles when renting your car with Budget in Europe, Middle East, Africa, USA, and Canada. On top of that, you will get 10% discount on rentals + Free 250 Km per day with Budget Saudi Arabia.
Go on a rewarding road trip with Budget Car Rental on your next vacation. Book and pick up your car between April 20, 2022 – June 30, 2022 to make the most out of this offer.
Please use Budget Worldwide Discount (BCD) Number G969600 for Blue members. Please use BCD Number G969700 for Silver and Gold members.
Terms and Conditions
This Promotion is open to Saudia ALFURSAN members ("Eligible Participants").
This Promotion is valid for residents globally and for rentals in participating locations.
This Promotion is valid for reservations made from 20 April 2022 to 30 June 2022 and car pick-ups from 20 April 2022 to 30 June 2022.
The bonus miles apply to participating Budget locations in the UK, Europe, Midlde East, Africa, the US and Canada for all car group.
This Promotion is available only for reservations made via this website or www.budgetsaudi.com. Blue members are required to use BCD number G969600, Silver and Gold members are required to book using BCD number G969700 to enjoy this promotion.
For enquiry, please contact Budget Saudi Arabia's call centre +966 92 000 4124, or bccc@budgetsaudi.com.
ALFURSAN members can earn 3X miles on qualifying rental during Promotion period.

Blue members earn 500 base miles + 1,000 bonus miles per rental (total 1,500 miles) for 1 to 4 consecutive days' rental.
Blue members earn 500 base miles + 1,300 bonus miles per rental (total 1,800 miles) for 5 consecutive days' rental or more.
Silver and Gold members earn 500 base miles + 1,300 bonus miles per rental (total 1,800 miles) for 1 day rental or more.

The 10% discount and free 250 km per day apply to rentals in Saudi Arabia only.
Booking confirmation is subject to car availability. 24 hours advance booking prior to the rental car pick-up time is required for the Promotion.
Miles will be credited to the member's account 4 to 6 weeks after the completion of each eligible car rental.
Miles can only be earned on one loyalty programme for each qualifying self-drive rental at participating locations.
ALFURSAN members will be eligible to earn miles only if the full name in the rental agreement matches the full name in the membership account.
Renters can only claim miles for their own rentals, i.e. only one rental at a time. Consecutive or conjunctive rentals will not qualify for miles – only the first qualifying rental in such situations will be awarded miles.
To qualify, rentals must include the ALFURSAN membership number of the first named driver (the "renter) at the time of reservation. The membership card or proof must be presented at the location during vehicle pick-up.
Discount and mileage accruals are based strictly on non-contracted rates only.
Rentals made using Budget contracted (corporate/government) rates/BCDs, chauffeur-drive, or van rentals do not qualify for promotional/bonus miles. Travel industry staff rates, replacement/insurance rates, selected association programmes, and net rate programmes do not qualify for this Promotion.
Renter must meet standard Budget age, driver and credit requirements and advance booking is required.
Missing mileage claims must be made within 180 days of the conclusion of each qualifying rental. To claim missing miles, original Car Rental Agreement copy is required. Members are required to retain copies of these until miles are credited to members' accounts.
For rentals in Saudi Arabia, members can contact Budget Saudi Arabia's call centre +966 92 000 4124, or bccc@budgetsaudi.com to claim for missing miles.
For rentals in other countries, members can claim for missing miles on this website.
This Promotion may not be used in conjunction with any other coupon or promotions, other than those stated on this website.
Budget and ALFURSAN are not responsible for typographical errors or omissions.
Budget and ALFURSAN reserve the right to discontinue this offer at any time.
24. Budget and other ALFURSAN terms and conditions apply.