About Budget Saudi Arabia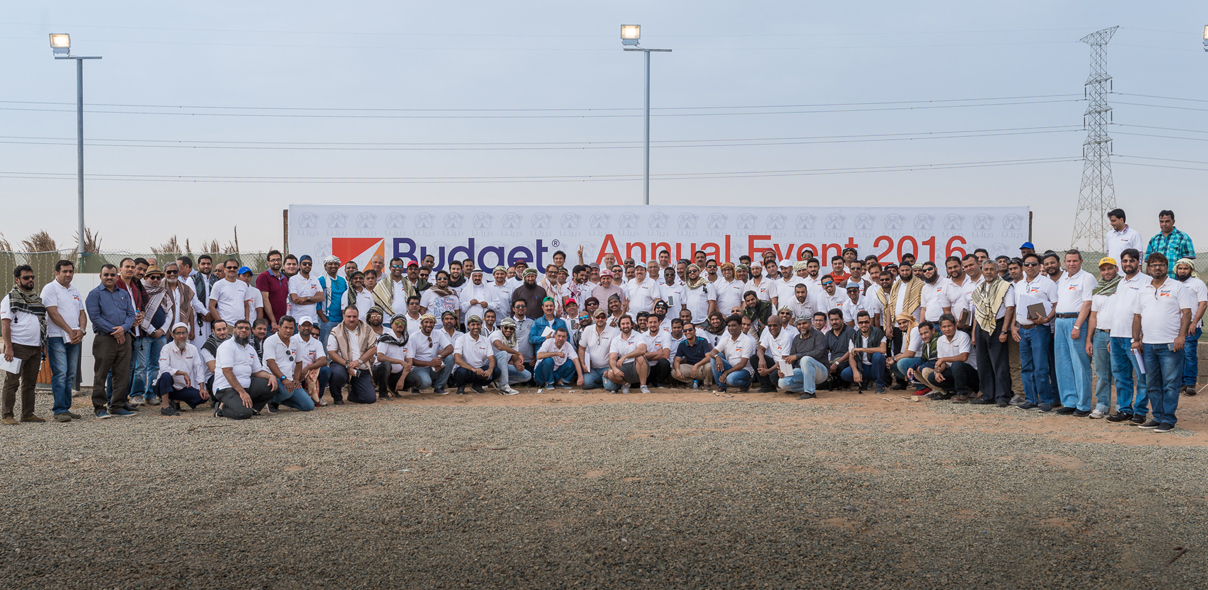 Our Journey
- Founded in 1978 by Mr. Abdulillah. A. Zahid with 1 rental office, 20 cars & staff of 15 people
- Presently there are more than 101 rental offices with a fleet of more than 24,000 cars
& 1200 employees
- The Head Office is in Jeddah, the Regional Offices in Riyadh & Dammam and branch offices in Jubail, Qassim, Buraidah, Yanbu, Makkah, Madinah, Abha, Taif, Rabigh & Tabuk , Jazan, Najran, Muhayal Assir, Al Baha, Hail, Al Kharj,and Qunfudah.
- Budget Saudi Arabia is the only ISO certified car rental company in KSA
- 14 workshops in KSA
- 10 Airport rental offices – Riyadh, Dammam. Jeddah Intl, Jeddah domestic, Yanbu, Medinah, Taif & Tabuk, Jazan, Najran
- 70 Mobile workshops

Our Vision
To be the largest diversified group offering transportation solutions in the Middle East, Africa & South East Asia.
Mission
To follow the highest ethical business standards through an effective & transparent corporate governance with a commitment to always deliver and keep promises to our Shareholders, customers and employees through consistent quality improvements, reliable services that exceed customer expectations and by fostering a culture of teamwork.
Purpose
Budget Saudi's purpose is to contribute to the growing economy of Saudi Arabia by job creation for the welfare & upliftment of the society.
Promise
We've never lost sight of the fact that first, last and always, we are a customer-driven service company. Satisfying customers means knowing what they want. Providing first-rate solutions and constantly reassessing how we conduct our business serves as an integral function of our business approach.
As a dynamic company, Budget always strives to anticipate and meet the present and future desires of customers, always being proactive, always being in the state of innovation for success. We are a car-rental company that prides ourselves on our long standing ability to listen, learn, and understand the nuances of our clientele.
Every innovation we develop is aimed at guaranteeing the promise that the Budget trademark offers: to create value for your money and a safe driving experience. We are delivering that promise by ensuring integrity in everything we do, quality in every one of our products, and accountability for results.
Customer First Always
There is no doubt that Budget puts customers first and is constantly striving to improve its services. The quality of service and its value to our customers is the essence of our business. Fast, efficient, affordable and dependable is the true meaning of value.
We have reshaped our business in order to realize our potential as a unique car rental company. Accordingly, our mission is to respond to customers' needs across our entire market.
Accomplishing this mission means that every day we have to live up to our values so that people continue to invite us into their lives. We have maintained our special place in local cultures by recognizing the differences between countries and regions. We continually operate as model business citizens, consistently shaping our decisions to improve the quality of services in the communities in which we do business. We encourage our employees to develop to their fullest potential and we infuse every aspect of our business with the spirit of innovation.
Achieving the highest level of quality service and attention to details covers the facets of our core business strategies. From reservation to rental closing, our customers experience satisfaction at every step, transforming car renting into a totally new experience. Ease, simplicity, flexibility and hands-on assistance are common trademarks of Budget services and products.
With a wide range of service offerings, we have responded to exactly what the market needs. From Car Rental, Car Leasing, Quality Pre-owned Car Sales, International & Domestic Reservations, Cross-Border Rentals, Chauffeur Driven Services and Premier Limousine Services, we have proven our capability and quality of service, unparalleled in the car rental industry in Saudi Arabia.
Budget Saudi Arabia financial performance
Click here to review on the Saudi Stock Exchange.