Budget Saudi-Loyalty Program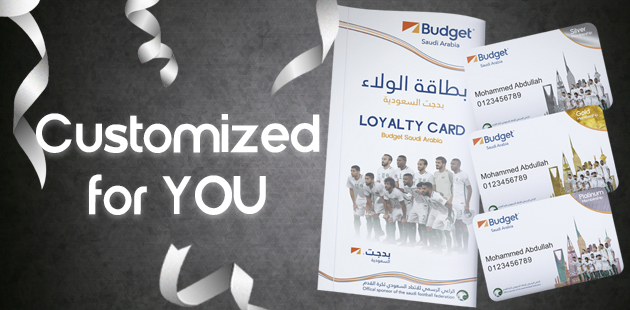 Available to all Budget Customers, even first time customers and is effective immediately
Enjoy Discounts & additional mileage allowances within Saudi Arabia and Abroad

Welcome To Budget Loyalty Program
Budget Saudi is the leading car rental company in the Middle East region and is synonymous with the highest levels of quality and customer service. Our goal is to continually improve our services and make sure that our customers' needs are satisfied.
Budget Loyalty Card is not a debit card or a credit card. It is our way of expressing our appreciation for your patronage by rewarding you every time you rent with us.
Simple way to join Budget Loyalty Club
Budget Loyalty is available to all Customers of Budget Saudi, even to first time customers and is effective immediately.
Simply rent a car from any of our locations in KSA and immediately enjoy your benefits, after completing the registration process.
Alternatively, you may also register online to fill in your details – it only takes a few minutes.
Earning points
You'll earn points every time you rent a car from us, no matter how you choose to pay.
For every SAR 100 spent one reward point is earned.
Rewards points collected are valid for life.
Redeeming points & Benefits
Points can be redeemed in slabs of 50, 100, 200 and 500.
These points can be redeemed at any Budget Saudi locations.

Benefits

Silver - 100 SAR = 1 point
Free KM 200
30 % - 44 % discount

Gold- 100 SAR = 1 point
Free KM 250
33 % - 47% discount

Platinum- 100 SAR = 1 point
Free KM 300
35% - 49% discount
- Discount depends on the vehicle model
Additional Benefits
When traveling Budget Saudi Card, can be used as a discount card at participating Budget franchisees outside the kingdom of Saudi Arabia.
| | | |
| --- | --- | --- |
| Budget Franchisee | Discount % | Exceptions |
| Budget UAE | upto 50% | No discounts during peak seasons |
| Budget Bahrain | 40% | No discounts during the formulae one season in April |
| Budget Oman | 40% | 10% discount only during Holidays and peak seasons |
| Budget Lebanon | 40% | No discounts during peak seasons |
| Budget Egypt | 40% | 15% discount only during Eid, July & August and New Years |
| Budget Jordan | 20% | For rentals more than 3 days. Not applicable during peak seasons |
Local rental terms & conditions apply.
discounts are applicable only on their local walk in rates
no reward points/revenue accumulation will be credited for rentals from these franchisees
Terms and conditions:
1- Applicant or renter should be at least 23 years and above
2- Should possess a valid Saudi driving license
3- Only one membership per person
4- Membership is nontransferable
5- Points are non exchangeable, non refundable or non redeemable in cash or credit.
6- Budget has the right to change or modify rules, regulations, rewards and km allocation at its sole discretion.
7- Budget has the right to terminate the program in part or whole at anytime without any notice, even though this may affect the value of points earned.
8- Budget has the right to cancel the membership of any member without any intimation and at its sole discretion.
9- Eligible for upgrades depending upon vehicle availability.
10- Level upgrade eligibility based on points accumulated to qualify for next level within 24 months
11- If your loyalty card is lost or stolen please inform Budget Customer Care Center (bccc@budgetsaudi.com) and replacement card will be re-issued at a cost of 50 SR
12- Points are not collected when Budget Saudi Card is used outside the Kingdom at the partnering Budget franchisees.
13- When requesting points redemption, member must send a 48h redemption notice to Budget Saudi at bccc@budgetsaudi.com