Corporate leasing
As a complete transportation solutions provider, Budget Corporate leasing offers customized lease plans to suit your business requirements.
Lease Customer Feedback Survey
Why go for Corporate Leasing
Lower Monthly Payments
Because you only pay for the portion of the time that you actually use of the car or truck, your monthly payments are 20%-30% lower than for a purchase loan for the same car and same term.

More Car, More Often
Since your monthly payments are lower, you get more car for the same money and drive a new vehicle every two to four years, depending on the term length of your lease.

No Maintenance Headaches
Most people like to lease for a term that coincides with the length of the manufacturer's warranty coverage so that if something goes wrong with the car, the repairs are always covered.

Lower Upfront Cash Outlay
Most leases require little or no down payment, which makes getting into a new car more affordable and frees up your cash for other things. However, you can choose to make a down payment, or trade in your old vehicle, to lower your monthly payment amount.

Full Comprehensive Insurance Coverage included
Most leases automatically include free "gap" protection in case your vehicle is totaled in an accident or stolen, and you still owe more than the vehicle is worth.

Focusing on Your Core Competencies
Release capital blocked in non-core assets (viz. cars) to channelize these to your core business.

Convenience in Billing
Simplified budgeting with a single monthly invoice & better cost control through pre determined lease rentals and expert vehicle management.

Less Administrative Costs
For maintaining your own fleet you have to appoint support and administrative staff to ensure the smooth operation of your vehicles, whereas in leasing these activities are undertaken by the leasing company.

Improves Morale of Company Staff
By providing vehicles on lease, employees would be able to drive the newest and latest models and would be able to replace their company cars after every expiry period leading to higher motivation and increased morale.

No Hassles for Selling or Buying Used Cars
With leasing, the headaches of selling a used car are eliminated. When your lease ends, you simply turn it back to the leasing company and walk away, unless you decide to buy it or trade it.
Our Services (Corporate Leasing)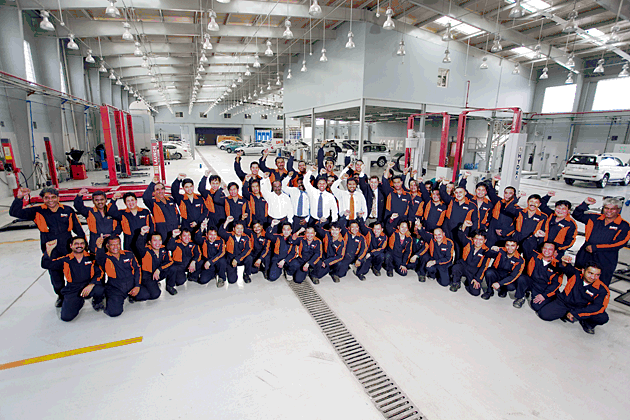 24 hours Emergency Road Assist Services
24 hours/365 days a year Customers can call 8002443399 in case of breakdowns, fuel recovery, wheel changing and battery boost from anywhere in KSA

Unlimited Mileage
Unlimited mileage on all lease cars without any excess mileage charges during the lease tenure.

Wide Range & Choice of New Vehicles
Choice of new vehicles from sedans, SUV's, MUV's, Light & Heavy Commercial Vehicles, Vans, Cooling Units, and Industrials Equipments etc.
New vehicles will be delivered in 15 working days time with an additional 9 working days time in case of registration delays. Subject to availability with the dealers.
Credit Facility
Budget will offer credit facility of 30 days.

No Down Payment
No down payment option.
Dedicated Lease Team Kingdom Wide
A dedicated lease team to cater to all sales & after sales requirements of lease customers spanning across all major cities & towns in Saudi Arabia.

Periodic Vehicle Maintenance
Periodic vehicle maintenance all inclusive in the comprehensive lease proposal starting with first service after 5000 KM and then subsequently after every 15000 KM for Petrol Engine Vehicles and 14000 KM for Diesel Engine Vehicles and covers the entire wear & tear maintenance costs of the vehicles during the lease tenure. The maintenance schedule includes tyres change interval for every 50 thousand Kilometers or depending on tyres condition/filters/oil change/brake pads/warranty/spark plug/battery etc. A detailed maintenance history of all lease cars can be provided on request. You can book the service in advance at your convenience and save time

Full Comprehensive Insurance
Full comprehensive insurance coverage including own vehicle damage, theft, & unlimited third party coverage up to 10 million Saudi riyals with a minimum insurance deductible of SAR 2500/-. Driver included in Personal Accident coverage and passenger up to the maximum seating capacity of the vehicle will be considered under third part coverage.
On Site Maintenance
Onsite maintenance facility provides the flexibility of minor repairs & preventive maintenance at the site ensuring the roadworthiness of all lease vehicles thereby saving your staff's valuable time.
Immediate Replacement
Immediate replacement in the event of any accident/breakdowns etc through its wide network of 11 workshops throughout the Kingdom of Saudi Arabia.

Maintenance & Replacement in Remote Areas
Budget will sub-contract with workshops in remote areas wherever your company operates and replacement will be provided from the nearest budget location. Your company can rent a replacement vehicle with prior approval from Budget till such replacement is provided.

Towing Facility
Free towing facility in case of accidents/breakdowns within a radius of 350 Km from any nearest Budget office in the Kingdom of Saudi Arabia.

24 Hours Mobile Van Service
24 hours/7 days week/365 days a year mobile van service with qualified team of technicians at the customer's beck & call in case of any accident or breakdowns.

Delivery of vehicles anywhere in the Kingdom
First delivery of new vehicles to any city or any branch office in Saudi Arabia without any extra delivery charges.

Pre Lease Vehicles
Equivalent replacement vehicles in case there is a delay in new vehicle delivery due to the non-availability of the ordered vehicles with the dealer.

Pick Up & Drop Services
Pick up & drop services for regular maintenance from the nearest Budget workshop to the customer's premises as & when feasible.

Branding of Vehicles
In-house branding of vehicles available at a mutually agreeable cost.

Attractive buyback offer at the end of the lease tenure
Budget will offer buyback option of the lease cars to the company employees at the prevailing market value after the lease tenure is completed

Cross Border Facility
Budget will offer cross border facility to drive lease cars in Middle East after paying the required insurance for the lease vehicle as per the insurance laws of the country.

Budget Loyalty Card
Budget will offer Budget Loyalty Card to all employees and rental points will be credited which can be redeemed for free rental days etc. depending upon the prevailing terms & conditions.

Attractive Corporate Rental Tariff
Budget offers attractive & special corporate rental tariff (attached) covering its wide network of 101 rental locations spanning across all major towns & cities in Saudi Arabia.

International Reservations
Budget operates in 120 countries with 3200 rental locations worldwide and provides the facility of free international reservation to any Budget rental location in the world.
24/7 towing facility anywhere in the kingdom for breakdown cars.
For emergency breakdown services, please contact 8002443399